Drummer Dies
John Bonham, aged 30, the drummer with the rock band Led Zeppelin, was found dead yesterday at the Berkshire home of the group's guitarist, Jimmy Page. A post-mortem examination is to be held today and the coroner has been informed.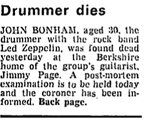 Click on the image above to view original PDF.
Source:
The Guardian (1959-2003) [London (UK)] 26 Sep 1980: 1.
---