Drum Set
Bonham played exclusively on Ludwig drums for the duration of his career in Led Zeppelin.
A massive thank you to Carl Librizzi and Tom Meadows from BonzoBrosDrums.com for generously sharing photos of his Bonham drum kits with us.

Standard Set Up: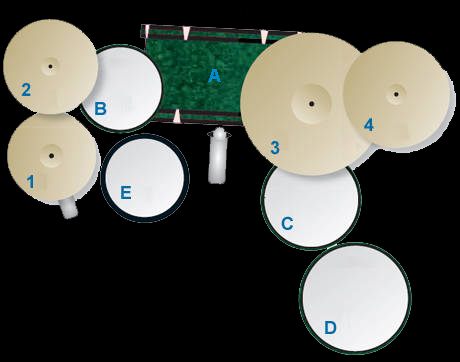 A large bass drum [A] with a mounted tom [B] and mounted ride cymbal [3], two floor toms [C & D], two horizontally mounted crash cymbals [2 & 4] and a hi-hat [1]. This set up was used by Bonham both in the studio and on tour.
26x14inch Bass Drum
15x12inch Tom (mounted using a snare stand)
16x16inch Floor Tom
18x16inch Floor Tom
This format was also used by the big band legend Buddy Rich, one of Bonzo's drum idols.
Early Drum Kit: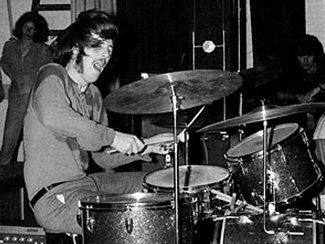 After getting feedback from the community, it seems that the first drum kit Bonzo played with Led Zeppelin was actually a Slingerland kit. I received an email which said that Bonaham received this kit from the drummer of the Yardbirds when they broke up and this was the kit used for the first Led Zeppelin album. After that album was released, Carmine Appice got him a deal with Ludwig.
Another visitor of the site also wrote in an email the following:
'That set was a Slingerland kit: 22" bass, 13", 16" toms.
Color is unknown, but it was a sparkle kit. Perhaps the blue sparkle kit.
He also used smaller cymbals.
The snare might be 14x5 inch. Maybe Supraphonic, or Slingerland Sound King Gene Krupa model, which always came with Slingerland set at the time.'
Therefore the following entry may be inacurrate.
During his early drumming days in A Way Of Life and Band Of Joy, he played on a Super Classic four piece Ludwig kit in Sparkle Green (Ludwig finish number 2004). It had the following specifications:
13x9inch Tom
16x16inch x2 Floor Toms
22x14inch Bass Drum
Led Zeppelin toured the US from December 1968 until the spring of 1969 often playing on the same bill as the psychedelic rock band Vanilla Fudge, whose drummer Carmine Appice used two gigantic 26inch Ludwig bass drums. This setup clearly had an impact on Bonzo, who soon after securing an endorsement deal with Ludwig in 1968, ordered two 26x14inch bass drums, a 22inch bass drum with specially adapted metal rims fitted for use as a huge floor tom, a 18x16inch floor tom and a 15x12inch marching tenor drum to be used as the small tom.
The Maple Kit 1969-1970: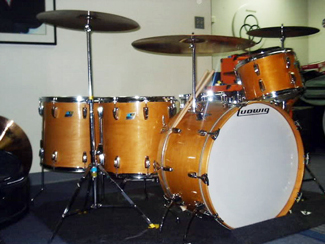 Made up from the following maple finish Ludwig drums:
13 or 14inch Tom
16x16 and 18x16inch Floor Toms
26x14inch x2 Bass Drums
The shells had reinforced rings. According to Paul Thompson (Welch & Nicholls 2001, p. 136) Bonham got the kit just before the Led Zeppelin II album was recorded, so it would have been used to record 'Whole Lotta Love' and 'Moby Dick'.
Green Sparkle 1970-73: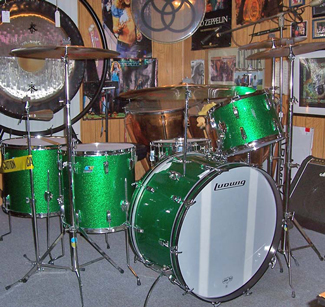 Bonham returned to using the green sparkle kit (used in his early days - see above) in 1970:
14x10inch (later 15x12) Mounted Tom
16x16 and 18x16inch Floor Toms
26x14inch Bass Drum
John apparently told his band mates that this was his favourite sounding kit.
Jeff Ocheltree (John's US drum tech), says that "following on from the natural maple kit, John had three green sparkle kits, and that he used them on about four albums – presumably Led Zeppelin III, IV, Houses Of The Holy, and Physical Graffiti." - (Welch & Nicholls 2001, p. 136)

The Amber Vistalite 1973-75: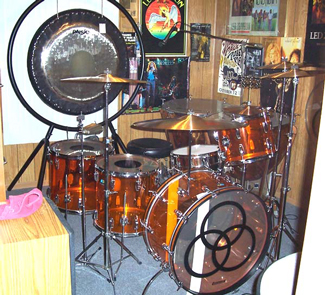 1973 saw the launch of Ludwig's distinctive multi-coloured Plexiglas-shelled Vistalite drum kit range. Bonham pioneered the use of this new kit in the same year it was released, choosing the Amber coloured version. Bonham can be seen playing this kit with the three intersecting circles symbol on the front of the bass drum in the Led Zeppelin film 'The Song Remains The Same'. Due to the plastic nature of this range, the Vistalite's gained a reputation for cracking. This kit maintained Bonzo's usual format:
14x10inch Tom
16x16 and 18x16inch Floor Toms
26x14inch Bass Drum
Silver Sparkled 1975-80:
Ludwig kit in Glittered Silver:
15x12inch Tom
16x16inch and 18x16inch Floor Toms
26x14inch Bass Drum

Stainless Steel: 1977-80: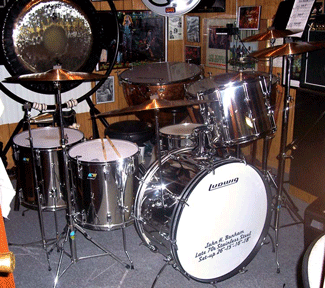 This kit differs from Bonham's other previous kits in that it uses full length tension lugs which would have helped increase the volume. This was to be Bonham's final stage kit, which he can be seen playing on in the 1979 Knebworth video footage of Led Zeppelin. It was used during the following two Led Zeppelin tours: Presence and In Through The Out Door.
15x12inch Tom
16x16inch and 18x16inch Floor Toms
26x14inch Bass Drum
Ludwig vs Premiere
During the late 1960's, there was a trend amongst British drummers to opt for playing on the more expensive Ludwig drums over the major British alternative at the time: Premiere. Ludwig drums were thought to sound considerably better and more importantly louder. This was a winning factor at a time when miking up drums for live shows was uncommon.
Many more details can be found in Welch & Nicholls' amazing book - 'John Bonham A Thunder Of Drums' Which you really ought to own!
If you have any other info on the equipment Bonham used, or have noticed any mistakes - please contact me