Led Zeppelin Drummer
John Bonham (1948-1980), also known by his nickname 'Bonzo', is celebrated as being one of the greatest rock drummers of all time, remaining a constant source of inspiration to generations of drummers since his playing in the Rock band Led Zeppelin.
This website is a tribute to Bonzo and the music he blessed us with.
A place to share his legacy with future drummers from all around the world!!
You are welcome here. I hope you enjoy your stay.
Bonham Site Highlights:
Ludwig Drum Sets
Bonham played exclusively on Ludwig drums for the duration of his career in Led Zeppelin. Learn about the different Ludwig drum kits Bonzo used - with pictures!
John Bonham Quotes
Quotes from the man himself.
John Bonham Interview
A rare video interview from 1970 with the great Led Zeppelin Drummer.
Death Of John Bonham
Bonham consumed 40 measures of vodka in just 12 hours. John Paul Jones: 'We tried to wake him. [Dead] It was terrible. I had to break the news to Jimmy and Robert.'Read about how John Bonham Died
John Bonham's Musical Timeline
See how Bonzo's musical path unfolded.
Jimmy Page interview on John Bonham
Listen to Jimmy Page talking about John Bonham in the BBC interview promoting 'The John Bonham Story'.
List Of Early Bands - Pre-Led Zeppelin
Discover the early bands that helped develop and shape John Bonham's drumming style before joining Led Zeppelin in 1968.
Billy Connolly Interview With Bonham
Bonham TV interview with his comedian friend Billy Connolly
John Bonham Triplet Drum Tutorial
Bonham's explosive drum triplets around the kit became one of his tradmarks. Learn how to achieve these triplets fills around the kit yourself.
Discography
John Bonham and Led Zeppelin's complete recording discography.
Watch This Cracking John Bonham Documentary: 40 Years Gone
John Bonham Biography Excerpt:
The below biography is made up from a small selection of excerpts taken from the Comprehensive Biography Article
According to John's parents, his enthusiasm for drumming was evident when he was still a small child of five. He would transform handy household objects laying around into percussion instruments for him to bang on. These included bath salt containers, pots and pans from the kitchen and a circular coffee tin which he would beat with knives and forks as a substitute for drumsticks, resulting in a snare drum like sound.
At the age of ten, Joan bought him his first piece of true drumming equipment: a snare drum. Although buying a drum kit for a teenager can be an alarming decision for any parent to make, John's parents knew that their young son had a true passion to learn the instrument. John received his first full drum kit from them aged 15. John later recalled: "It was almost prehistoric... Most of it was rust."


John was an ardent listener of music on the radio and records. Amongst John's favourite British groups were: Johnny Kidd & The Pirates, The Hollies and The Graham Bond Organisation with one of his drum idols Ginger Baker on drums. He was also a keen listener of American Jazz with drummers such as Buddy Rich, Art Blakey, Max Roach and Louis Bellson.
By early 1968, John Bonham had built up a strong reputation amongst musicians and bands in the Redditch area for being one of the best drummers around. He had the combination of power, stamina, technique and stage presence that made him stand out.
Robert Plant recommended John Bonham as a potential drummer to join Jimmy Page's new group. Page and manager Peter Grant went to check out John's drumming first hand at a Tim Rose. Jimmy was impressed and invited John to join Led Zeppelin. However, around this same time John had also been receiving other tempting offers from esteemed artists such as Joe Cocker and Chris Farlowe who were in positions to offer John more financially lucrative prospects.
Plant and Grant bombarded Bonham with telegrams of persuasion (eight from Plant and fourty from Grant) sent to John at his favourite local pub: 'Three Men in a Boat' in Walsall. Bonham finally decided to accept Grant's offer, joining the band in early September 1968. Bonham said: "I decided I liked their music better than Cocker's or Farlowe's."
Read the full John Bonham Biography
John Bonham Drums Excerpt:
The below drum hardware section is a small excerpt taken from the Comprehensive Drum Kit Section
Bonham played exclusively on Ludwig drums for the duration of his career in Led Zeppelin.

Drum Kit Set Up: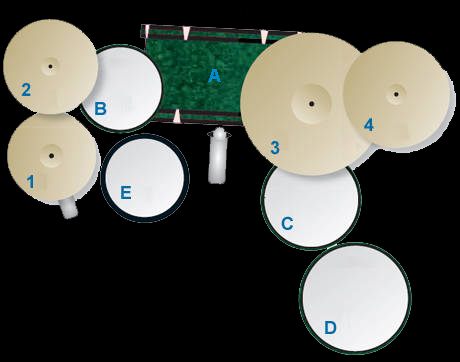 A large bass drum [A] with a mounted tom [B] and mounted ride cymbal [3], two floor toms [C & D], two horizontally mounted crash cymbals [2 & 4] and a hi-hat [1]. This set up was used by Bonham both in the studio and on tour.
26x14inch Bass Drum
15x12inch Tom (mounted using a snare stand)
16x16inch Floor Tom
18x16inch Floor Tom
This format was also used by the big band legend Buddy Rich, one of Bonzo's drum idols.
Have a look around and have fun!