Drumsticks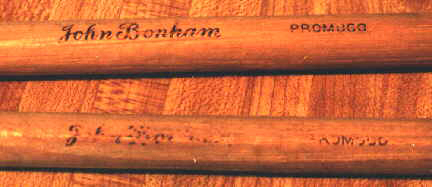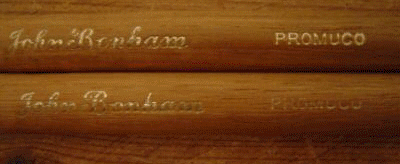 According to Glen Colson, in Bonzo's early days he would play using heavy sticks and would smash his way through 3 pairs a night!
Jeff Ocheltree who worked with Led Zeppelin during their later tours remembers Bonham using medium-weight sticks made from hickory. He says: "He didn't play heavy sticks, he didn't play butt-ends out, and he didn't smash the drums. He had incredible technique. He knew it wasn't about how hard you hit them, but how you hit them." - Sounds like Bonzo's technique had moved on a long way from his early days!
Some say that Bonham used to refer to his sticks as "Trees" but I have never found a reliable source for this.
More pictures of Bonham's Promuco Signature Drumsticks
Many more details can be found in Welch & Nicholls' amazing book - 'John Bonham A Thunder Of Drums' Which you really ought to own!
If you have any other info on the equipment Bonham used, or have noticed mistakes - please contact me