Gong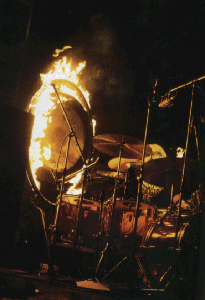 Bonham often sat with a 36inch or 38inch Paiste symphonic gong placed behind him on stage.
Jeff Ocheltree remembers: "There were three gongs I definitely know about. The first Paiste gongs had Chinese caricature letters on them. Later on they had 'Paiste' on them. John knew how to 'warm up' the gong with a mallet - and he used it for definite dynamic effect in a couple of tunes, not just for bashing. I also have a picture from Mick Bonham around 1973/75 where John has a smaller gong, maybe 22inch."
The picture on the right shows Bonzo's gong after being set on fire at a live show. You can see this happen in Led Zeppelin's film 'The Song Remains The Same'.
More pictures of Paiste Symphonic Gong
Many more details can be found in Welch & Nicholls' amazing book - 'John Bonham A Thunder Of Drums' Which you really ought to own!
If you have any other info on the equipment Bonham used, or have noticed mistakes - please contact me