Snare Drum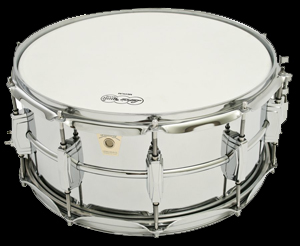 Throughout Bonham's career it seems he consistently played on the Ludwig Supraphonic 14inch x 6½ 402 snare drum on stage. This drum is usually found chrome plated over a 'Ludalloy' shell. He decided against using the more expensive brass-shelled drums. Ocheltree tells us: "He said they were too dark. Bonzo's were zinc - we used to scratch the inside to check. Bonzo said the brass ones were too 'muddy'. He said "I can't get the clarity, however high I tune them.""
Interestingly, according to Ocheltree during the final Led Zeppelin tour Bonham instead of using the commonly used 20 coil snare wires, (under the drum) he instead used a 42 strand coil to achieve "a little wider sound".
More pictures of the Ludwig Supraphonic snare drum
Many more details can be found in Welch & Nicholls' amazing book - 'John Bonham A Thunder Of Drums' Which you really ought to own!
If you have any other info on the equipment Bonham used, or have noticed mistakes - please contact me