Timpani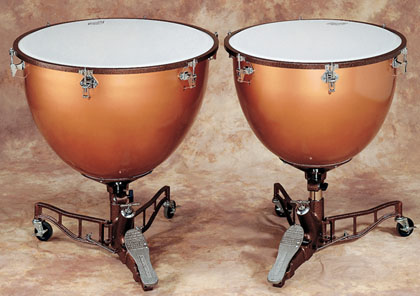 Bonham used a pair of Ludwig timpani for live shows from 1972 onwards. A description of the range he would have used can be found in Ludwig's 1973 catalogue: 'Ludwig Universal Model copper-shelled timpani' which were available in sizes ranging from 20 inch to 32 inch.
The Universal timpani design originated from William F Ludwig Snr's original 1919 prototype, and were cleverly designed to be portable with detachable base stations. The drum head skins are tuned using the 'T' handles, while glissandi and pitch modulation are produced through the depression of the foot pedals.
Many more details can be found in Welch & Nicholls' amazing book - 'John Bonham A Thunder Of Drums' Which you really ought to own!
If you have any other info on the equipment Bonham used, or have noticed mistakes - please contact me